Written by Rohit G |Updated: August 28, 2020 03:18:02 pm
Sadak 2
The trailer of Sadak 2, starring Aditya Roy Kapur, Sanjay Dutt, and Alia Bhatt, released on Wednesday morning and by late afternoon it had received almost a million 'dislikes' on YouTube. Various people have rejected the trailer calling it a product of 'nepotism'. Netizens apparently are making good on their declared intention of boycotting Sadak 2.
This "planned" boycott of the movie dates back to the weeks after actor Sushant Singh Rajput's death on June 14, allegedly by suicide. Just after the 34-year-old star of Chhichhore was found dead at home in Mumbai, speculation that he was pushed to the brink in part by the alleged treatment he received from Bollywood "insiders" prompted a massive outpouring of anger against certain celebrities on social media platforms. Alia Bhatt, being one of them.
'Nepotism'
Alia was targeted, for she had spoken dismissively of Sushant on the chat show Koffee With Karan. Her proximity to filmmaker Karan Johar, who has rumored to have joined other producers in shutting Sushant out of films also triggered a backlash, amid renewed criticism of nepotism and favoritism in the film industry.
Mahesh Bhatt – The Producer
In addition, Sadak 2 being directed by Mahesh Bhatt has also contributed to the surge of social media hate. Mahesh Bhatt has also been facing heat for being close to actress Rhea Chakraborty, who is being questioned in the investigation into Sushant Singh Rajput's death. Rhea, who was dating Sushant, is accused by his family of illegally transferring money amounting to Rs 15 crore from the actor's account and driving him to suicide. In addition, to this, the Bhatt family (Mahesh Bhatt, Mukesh Bhatt, Pooja Bhatt, Alia Bhatt) were called out by actress Kangana Ranaut soon after actor Sushant Singh Rajput's demise. She alleged them of running a movie mafia. However, Sadak 2 is not alone.
The Dislike button
Earlier in August, the trailer of Jahnvi Kapoor's The Kargil Girl was heavily criticized and it received a similar treatment at YouTube. People are using the dislike button as a tool to express their anger and carry forward the nepotism debate.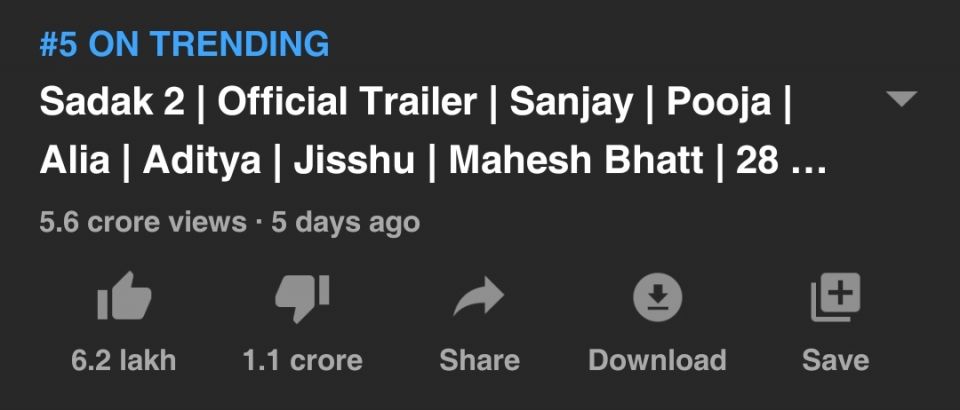 The original intent of that button was to provide viewer feedback on content, but that has not necessarily always been the case. Sushant Singh Rajput's death triggered the conversation about nepotism. It touched a raw nerve with millions across the country. It has been several weeks since then but the collective anger refuses to die down.
Editors' Pick :
Point to be noted
In a country like ours, where success is elusive and almost all of us have a story of struggle, heartbreak, and missed opportunities, it is easy to understand where these strong emotions come from. But what is interesting is how our society is reframing rules and finding new ways to express their angst and their grief. Even if it means just a click. When millions do it together, they are bound to be heard. There is a collective power of a mob that cannot, and will not be denied.
Disliking the trailer of Sadak 2 is a mark of protest, a point that has been noted. But what next. Will it change casting for the next film? Will it give a newcomer another chance? Will it change release dates. Will there be apologies? Will this spill over to other industries? Can this be a harbinger of social justice? These questions will take time to be answered. The big one really is, Will people watch the film when it releases. A lot depends on that.